Gastonia Endodontics is home to the endodontic practice of Drs. Wheeler and Bryson. We are a dental office specializing in endodontic (root canal) therapy. We are here to serve you, our patients, and the general dentists and dental specialists of both North and South Carolina.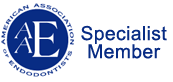 We are dedicated to providing our patients with the highest quality endodontic care in a pleasant and comfortable environment. Our goal is to employ our skills and knowledge of endodontics in order to provide patients with long term solutions for retaining their natural teeth. We are extremely proud of our long history of service to our patients and referring dentists, and we strive daily to achieve and exceed excellence in the quality of our care.
Please explore this site to learn more about us and about our services. If you have been referred to our office, we have provided Patient Forms which can be downloaded and completed prior to your appointment. Bringing the completed forms with you will expedite the time spent during your visit.